In a very tragic incident today, renowned playback singer KS Chitra's eight-year-old daughter Nandana died when she got drowned in the swimming pool of a villa in the Emirates Hills.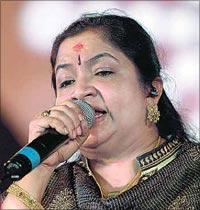 The singer and her troupe are in Dubai to participate in a musical extravaganza to celebrate the compositions of Oscar winner music director A.R. Rahman at Sharjah Cricket Stadium on Thuesday.
Singer Chitra has sung songs not just in South Indian films but also in many Hindi films. She has received six national awards and given hit numbers in at least 10 different languages.
Chitra and her husband Vijayshankar were blessed with their daughter after nearly 15 years of marriage. The accident happened at a villa in Emirates Hills, Dubai.
The girl was rushed to a nearby hospital in Jebel Ali, but was already declared dead.