At least one person was killed in a police firing on Monday (18-Apr-2011) as the simmering tension in Jaitapur in Maharashtra came out into the open with protesters opposed to the proposed nuclear plant clashing with cops. At least eight people, including police officials, were injured as the protest turned violent.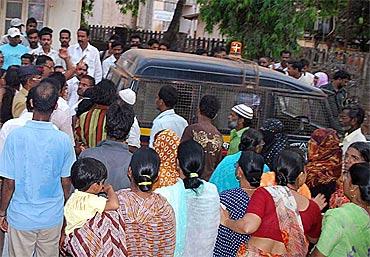 Thirty protesters including Shiv Sena MLA Rajan Salvi were arrested, Ratnagiri Collector Madhukar Gaikwad told the media. A protester was killed in the firing and a policeman was grievously injured in stone-throwing, he said.
"Two separate incidents happened during the day," Mr. Gaikwad said. "In the morning, more than 200 protesters under the leadership of Mr. Rajan Salvi created disturbance at the site of the project. They threw stones and set the grass there on fire."
While a Shiv Sena spokesperson said one of the protesters died in alleged police firing, Ratnagiri police declined comment on the issue.
More than 50 protesters were reportedly detained by the police.
According to the activists, hundreds of people from Madban, Jaitapur, Nate and other villages in the district on Monday held spontaneous protests against the 9,900 MW project.
Maharashtra Home Minister R R Patil said the agitators had stormed the police station when most officials were on duty at the project site in Jaitapur since the locals were to stage a demonstration there.
The Assembly was adjourned for the day after the Opposition insisted that Home Minister R.R. Patil make a detailed statement.
Mr. Patil confirmed that one person, Tabrez Sejkar, was killed in the firing against a mob of 600 which attacked the police station.
Energy-hungry India currently sources three percent of its electricity from nuclear power but the government wants to increase that to six percent by the end of the decade and 13 percent by 2030.
Anti-nuclear activists were planning further protests this weekend in Maharahstra to demand that the Jaitapur and other nuclear power plant schemes be scrapped, PTI reported.